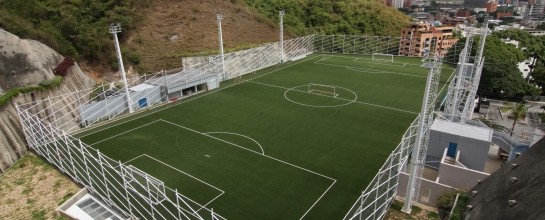 AirField Systems Delivers Another World Class Synthetic Roof Top Athletic Field with a Sustainable Design To Caracas, Rivaling the 2007 Venezuela National World Cup Soccer Field
The International School "Escuela Campo Alegre" has Installed a New World Class Synthetic Roof Top Athletic Field with an AirField Systems Drainage System. The Athletic Field was Designed and Built on Top of a Four Story Parking Garage and Partially Into the Side of a Mountain At its side housing a 80,000 gallon tank to capture water for collateral irragation.
Established in 1937 Escuela Campo Alegre is an accredited North American International School located in Caracas, Venezuela. Throughout its history the school has provided innovative education which focuses on individual student needs. Therefore, it comes as no surprise Escuela Campo Alegre chose the AirField Systems AirDrain http://www.airfieldsystems.com for the schools new state of the art athletic field complex, located on top of its latest extension, a three story building, housing an early childhood center, a gym, which can be divided into three multiple use courts, and maintenance areas, designed by Kunckel Arquitectos Asociados (glocalstudio Caracas) and H2L2 of Philadelphia.
AirField Systems provided a state of the art synthetic turf field which eliminated the need for rubber infill and kept the school consistent with their mission statement of using new and innovative technologies. With the AirDrain geocell layer located directly beneath the synthetic turf, the children enjoy consistent playability due to AirDrain's constant and never changing G-Max. G-Max is a test that measures surface playability in natural grass and synthetic turf athletic fields. Recent ASTM testing provides evidence that the AirDrain geocell acts not only as a drainage layer but as a shock pad as well. Measuring a 107-110 G-Max in shock attenuation testing, the AirDrain geocell allows for uniform shock absorbency and reduces strain on ligaments and joints.
Additionally, the school requested a system that captures, stores and reuses the storm water and irrigation that passes through the field. An 80,000 gallon water tank was installed at ground level that captures and reuses water for school facilities, irrigation of existing landscape, and reduces the temperature of the field during hot summers. Michael Bean, Director of Sales at AirField Systems remarked "It's exciting to be a part of a rooftop project with the level of sustainable design and construction using 100% recycled AirDrain and filter fabric while capturing the water that hits the field and storing it in an 80,000 gallon tank, using it later for collateral landscaping and grey water."
"DOC" Sports Surface Installers http://www.docturfinstallers.com/id7.html provided the installation of the synthetic turf due to their 25 years of experience and 600 plus synthetic turf fields under their belt. They know when the AirField is installed correctly no other system comes close in field performance or value in a sustainable design. Braddock "DOC" Boyd, DOC Construction commented "I've installed the AirField System multiple times and when installed correctly nothing comes close in performance under a field, especially a rooftop."
The American Institute of Architects and the United States Green Building Council have both approved the Airfield System continuing education course entitled "Synthetic Drainage for Sustainable Design in Modern Sports Field Construction". The continuing education course discusses all aspects of the AirField System including the Texas A&M Research Project in partnership with the USGA. It also defines the basic components of the system, explains it's sustainable attributes and reviews case studies revealing what makes the AirField System the number one choice for architects and engineers all across America. Click on the following link to view's AirField's continuing education course, http://www.greence.com/cgi-bin/info.pl?action=course&id=43
tag :
AIA
,
artificial turf
,
asla
,
astro turf
,
athletic field
,
baseball
,
bocce
,
bunkers
,
cad details
,
drainage
,
drainage layer
,
drivable grass
,
elayer
,
field hockey
,
field turf
,
Fieldturf
,
football
,
forever lawn
,
foreverlawn
,
geo cell
,
geo grid
,
geocell
,
geogrid
,
gmax
,
golf
,
golf greens
,
green building
,
green roof
,
hic
,
invisible structures
,
lacrosse
,
landscape
,
LEED
,
newgrass
,
prograss
,
rooftop
,
shock pad
,
shockpad
,
soccer
,
softball
,
sports field
,
sub-surface
,
synlawn
,
synthetic turf
,
tee boxes
,
Texas A&M
,
turf
,
turf reinforcement
,
ultimate Frisbee
,
usga
,
usgbc